▷VEGA ONE "All-in-One" [REVIEW]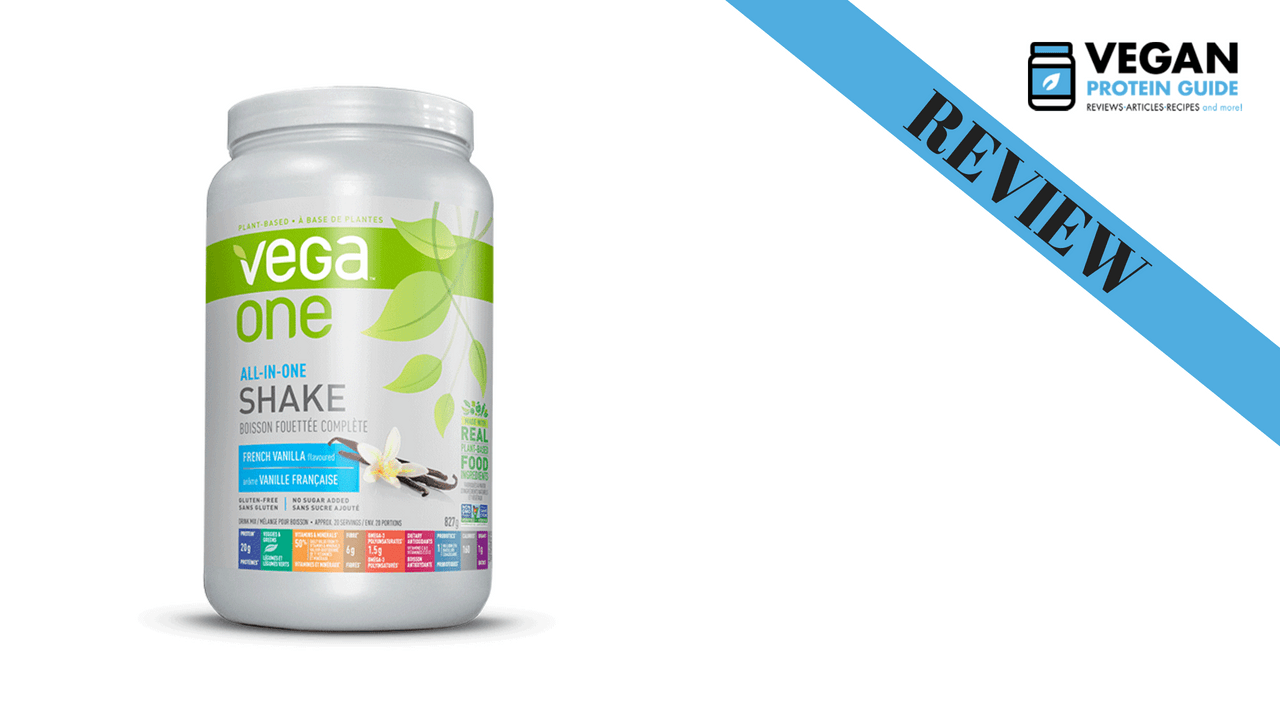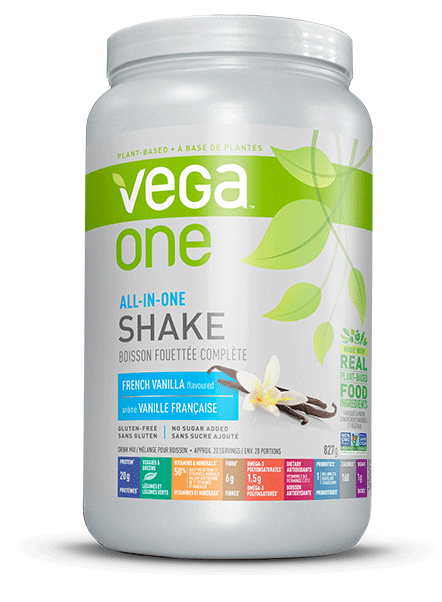 I'm sure you're familiar with Vega, one of the most successful vegan nutrition brands in the world. We've already reviewed their awesome Vega Sport, but this time we're talking about an entirely different animal plant: the Vega One.
And the differences begin with the color: the Vega One is GREEN!
Yes, I mean the actual powder is freaking green. But don't worry, there are no artificial flavors, colors, or sweeteners – the interesting color is due to all the added broccoli, kale, chlorella, and spirulina.
While most protein powders only focus on the actual proteins, the Vega One is an All-In-One shake – which means it also has veggies, greens, vitamins, minerals, probiotics, omega-3, fiber, and antioxidants.
It's meant to fuel your body with everything you need for a healthy, balanced diet – and some people even use it as a meal replacement.
So if you like the idea of being able to consume a good amount of protein WHILE ingesting a lot of nutrients, then read on – the Vega One might be the right product for you!
TASTE & TEXTURE:
The first thing you'll notice is that this powder is green – but we've already mentioned that. So let's talk about the second thing you'll notice:
The powder a bit chalky because of the natural ingredients, but will mix well with pretty much anything you could come up with: almond milk, coconut milk, cashew milk, soy milk, rice milk, oat milk, and so on. Having said that, you kinda need a blender for this one – because just a shaker bottle won't do it.
Due to its texture, the Vega One is excellent for smoothies, making it thick, sweet and smooth. At the same time, you wouldn't wanna mix it in a refreshing drink, because it will thicken it up. Remember: think smoothie, not refreshing drink.
And talking about mixing, we don't recommend using the Vega One with plain water, because the taste is so much better with some berries and/or half a banana. This vegan protein powder has lots of greens and algae, so adding other ingredients will improve the taste.
Some people say that the Vega One tastes bad… I don't agree with that, and I believe they just had the wrong expectations. If you're craving a milkshake, this is NOT it. This is a product with greens, fruits, veggies, vitamins, algae, etc… so it tastes like it!
Now, Vega does a good job balancing the flavors so it does not taste like GRASS, but don't expect it to taste like a Slurpee either.
Most people who complain about the taste are used to artificially flavored whey protein powders – so if you're used to the taste of vegan protein powders, the Vega One won't be a shock.
Oh, and keep in mind that Vega uses Stevia as a sweetener, so it does leave a subtle aftertaste in your mouth (definitely less pronounced than in the Vega Sport, though). Most people can't even notice it, but if you utterly hate stevia… maybe skip this one (and go with this instead).
VEGAN SOURCES OF PROTEIN:
When you follow a plant-based diet, the number one concern most people have is getting all the essential amino acids – but worry not, because the Vega One packs a combination of proteins from Pea protein, hemp protein, Canadian flaxseeds and sacha inchi – guaranteeing a complete multisource plant-based protein blend with an interesting amino acid profile.
If you compare the Vega One to the majority of vegan protein powders on the market (which rely heavily on soy protein) – the Vega One is miles ahead with protein from legumes (pea) and seeds (hemp, flaxseed and sacha inchi) – making it a soy-free, grain-free, gluten-free, sugar-free, non-GMO supplement with a healthy combination of protein sources and a good amino acid profile.
INGREDIENTS
So now you know that the Vega One has great sources of proteins and uses Stevia for sweetness, but it doesn't stop there. Where the Vega One really shines is the many included awesome ingredients for extra nutrition.
Here's the complete list of real, plant-based food ingredients (extracted from their website):
PEA PROTEIN, FLAXSEED, COCOA POWDER (PROCESSED WITH ALKALI), ORGANIC ACACIA GUM, NATURAL FLAVORS, HEMP PROTEIN, SACHA INCHI PROTEIN, ORGANIC GELATINIZED MACA ROOT, ORGANIC BROCCOLI, ORGANIC SPIRULINA, BEET ROOT (FOR COLOR), STEVIA LEAF EXTRACT, ORGANIC KALE, ORGANIC MARINE ALGAE, DRIED FRUIT AND VEGETABLE BLEND (SPINACH, BROCCOLI, CARROT, BEET, TOMATO, APPLE, CRANBERRY, ORANGE, CHERRY, BLUEBERRY, STRAWBERRY, MUSHROOM), CHLORELLA VULGARIS, PAPAIN, CITRIC ACID, PROBIOTICS (BACILLUS COAGULANS), DRIED ANTIOXIDANT FRUIT BLEND (GRAPE SEED EXTRACT, ORGANIC POMEGRANATE, ACAI, MANGOSTEEN, ORGANIC GOJI, ORGANIC MAQUI)
Wow, pretty amazing if you ask me! Now let's explain better some of those ingredients:
Marine Algae (Chlorella & Spirulina)
Algae is one of the best sources of calcium since it's highly bioavailable. Chlorella (green algae) is considered one of the most potent superfoods – and it's here to help clean and detoxify your body from heavy metals and radiation. Spirulina (blue-green algae) has been shown to help in the control of high blood pressure and cholesterol, and might even help to protect you from cancer! As if that was not enough, it also supports the growth of healthy bacterial flora in your gut.
Maca Root
The benefits of this superfood include hormone balance, improved immune system, increased energy, stamina and sexual function, focus and memory! Believe me, this is gonna make you feel "alive".
Greens (Broccoli, Kale, Spinach)
First and foremost, broccoli, kale, and spinach are alkaline, which means it will balance your body since protein can be quite acidic. That's nice to have in a protein powder! I don't even need to talk about all the other benefits from eating greens because I'm sure your mom has already done it – but let me just remind you that they're high in iron and calcium.
1 Billion Probiotics (BACILLUS COAGULANS)
Everybody knows by now that probiotics are great for your digestive system and gut health, but many strains either just pass through and/or can't survive in the highly acidic environment of your stomach. That's why Vega chose the Bacillus coagulans: it's resistant to the temperature and PH of your digestive system and will help you maintain a healthy flora.
1.5g OMEGA-3s (ALA)
These are the essential fatty acids found in flaxseed, chia, and hemp. There are 3 kinds of Omega-3s: EPA, DHA and ALA. Now, I don't wanna go Sheldon Cooper on you, but let's just say that ALA is better. If you wanna know why read the facts here.
Antioxidant Vitamins A, C, E
These vitamins are considered antioxidant, which means they work to protect your cells from free radicals and other harmful substances. Each serving of Vega One has an amazing 50% DV vitamin E, 70% DV vitamin C, and 90% DV vitamin A – and they come naturally from the Fruit Blend (Grapeseed, pomegranate, acai, mangosteen, goji, maqui).
6 grams fiber
They come from ingredients like acacia gum, flaxseed, and greens, and deliver about 24% DV in each serving – which will help to maintain your healthy weight and lower the risk of having diabetes and heart diseases. And, of course, they will also make you poop like a champion 😉
COST:
Some people look at the Vega One price tag (click to see the price) and just give up on buying it, and I've even seen many reviews concluding that it's an expensive product. However, we need to put that price in perspective and remember that the Vega One can often be used in place of a multivitamin and others supplements (like chlorella and spirulina pills), since each serving has the equivalent of 6 servings of greens and 50% DV of 12 vitamins and minerals.

If you compare it to most vegan protein powders, then yes – the Vega One is more expensive. But they're so much more in it than just proteins! If you're just counting grams of protein, I'd suggest reading our guide to the 5 BEST VEGAN PROTEIN POWDERS and picking one from that list.
However, if you want to improve your nutrition (and your health, well-being, gut flora, immune system, etc) with a high-quality supplement that will deliver everything you want and nothing you don't want, Vega One's price is pretty fair.
You're actually buying a high-quality product for a very reasonable price – especially if you compare it to products with a similar profile like Shakeology.
Vega One: SHOULD YOU BUY?
Let's do a quick recap:
Taste: A bit chalky, sweet but not overly so. Great for green smoothies.
Sources: Pea, hemp, flaxseed and sacha inchi. Excellent variety, strong amino acid profile. Soy-free, grain-free, gluten-free, sugar-free, non-GMO.
Other Ingredients: Yes, a lot of them. Marina Algae, Maca Root, Greens, Probiotics, Omega-3, Antioxidants, Fiber, Vitamins, and Minerals.
Cost: Reasonable, when considering all the benefits. More expensive than a vegan protein powder, cheaper than Shakeology. If you can use it to replace a protein powder + multivitamin + marine algae capsules, then it becomes cheap.
Ok, so here's our conclusion:
When you understand that each serving of this product has all those benefits from the nutrient-rich natural ingredients + 6 servings of greens + 50% DV of 12 vitamins and minerals, the Vega One proves itself hard to beat in the "all-in-one" department.
Now, I would NOT recommend this product if you either:
Are looking for a protein powder and nothing more than that;
Absolutely hates stevia;
Can't handle some ingredients (like maca root, spirulina or chlorella).
If that's you, then read our guide on THE 5 BEST VEGAN PROTEIN POWDERS – I'm sure you'll find the right one for you.
On the same token, I would STRONGLY RECOMMEND the Vega One if you:
Aim to improve your overall nutrition and health;
Understand the importance of micronutrients;
Want a supplement that makes you feel freaking awesome.
Sounds like you? Then our recommendation is that you buy it right now – because there's a good chance you're gonna LOVE it and never ever try another product!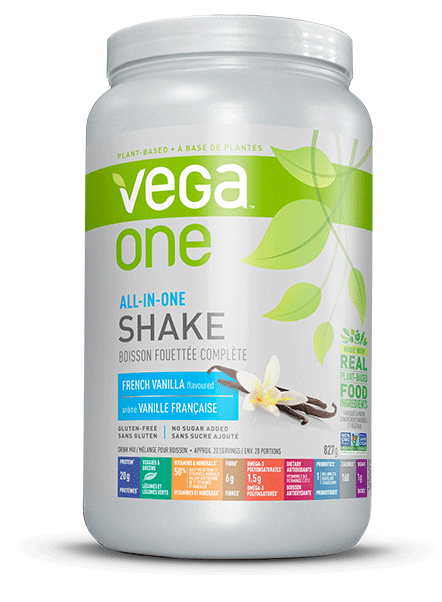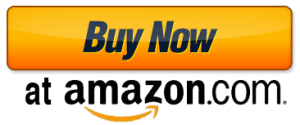 Need to do more research before buying?
No worries! Check out our other detailed reviews on the links below:
SUNWARRIOR WARRIOR BLEND REVIEW
SPROUT LIVING EPIC PROTEIN REVIEW
Or just read our most famous article "THE 5 BEST VEGAN PROTEIN POWDERS" for a brief analysis of all those products!