ORGAIN ORGANIC PROTEIN [REVIEW for 2022]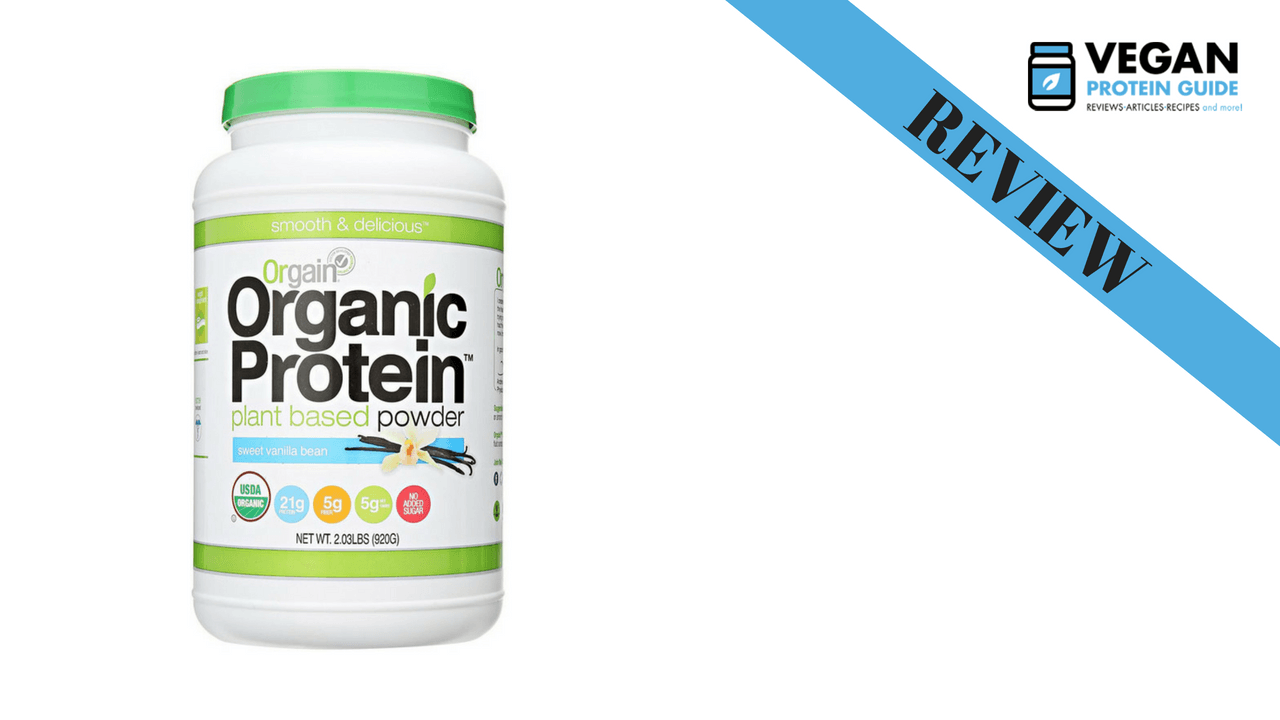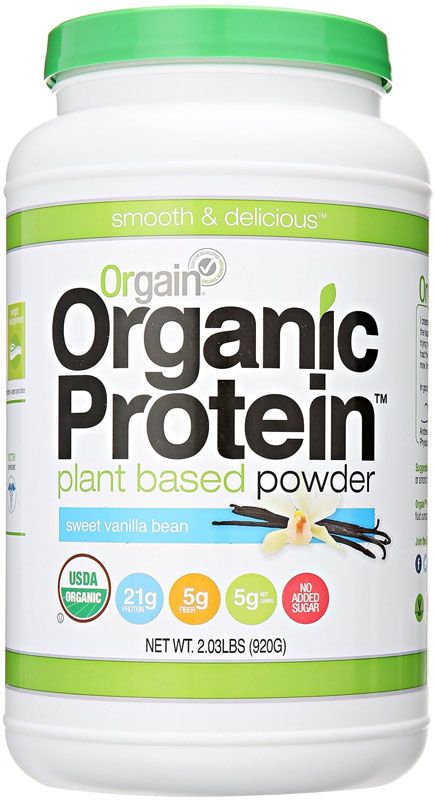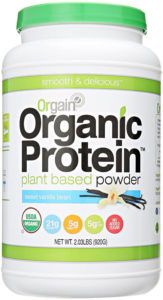 You might not have heard of it yet, but the Orgain Organic Protein is still (2022) the best-selling vegan protein powder on Amazon – topping famous brands like Sunwarrior, Vega and Garden of Life. In this review you'll understand why – and maybe even become a raving fan yourself.
There's an interesting story behind the Orgain brand, of a doctor who was a cancer patient himself and couldn't find any clean, no-additives protein powder – so he just decided to make one! Many years later, Orgain is a huge success and is telling its consumers that they shouldn't compromise on taste, nutrition or ingredient quality. Do they live up to that promise? Read on to find out!
TASTE & TEXTURE:
The Orgain Organic Protein powder is offered in 2 flavors: 'Creamy Chocolate Fudge' and 'Vanilla Bean'. Here at Vegan Protein Guide we usually don't recommend a flavor because it depends on your personal preference, but in this case the vanilla really is better. Of course some people will prefer the chocolate one (myself included), but almost everyone that tries both of them agrees that vanilla is just better.
Orgain decided to create a product with a cleaner taste, so the Organic Protein doesn't have that strong, sweet flavor that makes you think of milkshake. This is good news if you like to make smoothies with fruits, because they won't get extra sweet – but won't taste like chalk either.
The texture is well balanced – not too grainy or too thin, and if you mix it with almond milk or coconut milk you'll get a nice shake that's a combination of creamy and thick. There might be some clumping inside the blender, but it's not a big deal.
PS: Like the vast majority of vegan protein powders, the Organic Protein uses Stevia to cover the taste of protein – but the aftertaste is not so pronounced as in some other products (many people don't even feel it). However, it's worth to mention that, if you want to avoid stevia, go with the stevia-free Epic Protein instead.
VEGAN SOURCES OF PROTEIN:
When you tell people you're on a plant-based diet, their first concern is: "Vegan Protein is not Complete". If you're here, you probably know that this is not true – you just need to eat a good variety of foods.
The Orgain Organic Protein strives to provide you with all the essential amino acids – using a combination of Brown Rice, Hemp, Chia, and Pea to achieve a very interesting amino acid profile.
That means you'll have proteins from grains (brown rice), seeds (hemp, chia) and legumes (pea) – making the Orgain Organic Protein a gluten-free, soy-free, non-gmo, organic supplement with a healthy combination of protein sources and a good amino acid profile.
Oh, did I mention that all ingredients are organic? It's not just the name of the product 🙂
COST:
While there are others brand that offer organic products, they're usually pricier. That's not the case with Orgain's Organic Protein – which figures among the cheapest high-quality vegan protein powders you can buy.
And I'll prove that to you – because just looking at the price tag is not enough.
In fact, forget about the price tag.
Some brands use big scoops and claim that their product has "more grams of protein per dose". Of course, their doses are bigger! Others sell their products on larger jars, and say that you get "more servings per container". Who are they trying to fool?
When you're buying vegan protein powders, make sure to include all these factor into the price equation:
"Product Price", "Weight", "Serving Size" and "Grams of Protein per serving"
Here's the info about the Orgain Organic Protein:
Product Price: $ (Click to see updated prices) Depends on serving size and taste.

Weight: The container is 2.03lb (920g).
Serving Size: One scoop is 46g
Protein per Serving: Each serving has 21g of protein.
$24 ÷ (920÷46) × 21g = $0.057 per gram of protein.
See? Check all those items to make sure the smartass marketing guys aren't deceiving you by changing the size of the scoop, using bigger containers or decreasing the protein ratio.
If you apply that same thinking to similar products from other brands, you'll find out that the Organic Protein is actually underpriced compared to the market average. So not only you're buying a good-quality, no-compromise organic vegan protein powder, but you're actually saving money while doing so.
ORGAIN ORGANIC PROTEIN: SHOULD YOU BUY?
Let's do a quick recap:
Taste: Not too sweet, well-balanced, excellent for smoothies.
Sources: Brown Rice, Pea, Hemp, Chia. Good amino acid profile! Organic, Gluten-Free, Soy-Free.
Cost: $ (Click to see updated prices)
Orgain's brand positioning tells you to be picky, affirming that buyers shouldn't compromise on nutrition, ingredient quality or taste. And their Organic Protein certainly doesn't – starting from their choice to only use 100% organic ingredients.
And while there are other brands that offer organic products, they're usually pricier. That's not the case with Orgain's Organic Protein – among the cheapest high-quality vegan protein powders you can buy.
So now you know why Organic Protein is the best-selling vegan protein powder on Amazon. It tastes good, has a nice variety of vegan protein sources, uses only organic ingredients and is cheaper than most.
If you feel like you have been compromising on taste or quality in order to get an affordable protein shake, you should definitely try the Orgain Organic Protein powder.
You might have finally found your new favorite.
Still unsure? Need to do more research before buying?
Check out our other detailed reviews on the links below:
SPROUT LIVING EPIC PROTEIN REVIEW
SUNWARRIOR WARRIOR BLEND REVIEW
Or just read our most famous article "THE 5 BEST VEGAN PROTEIN POWDERS" for a brief analysis of all those products!