How Much Protein do I Need?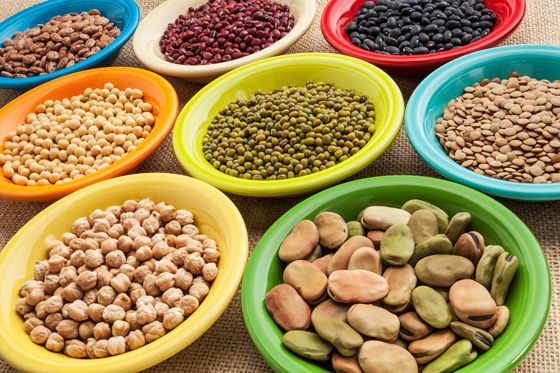 No matter if you're a life-long vegan or just new to a plant-based lifestyle, there are two questions related to protein that I'm sure you want to know: " How much protein do I need ?" and "Can I reach an optimal daily protein intake as a vegan?" In this article we'll cover both of them.
Protein is something which is heavily weighed upon in terms of keeping your body healthy as well as building muscle – and although it really is essential, the daily intake of protein you need is far lower that what we have been led to believe.
Today we are going to look into some common misconceptions and furthermore you'll see how vegans can easily incorporate the right amount of protein into their diets.
The Truth About Vegan Protein
Before we get into the "nitty-gritty" of it all, this must be addressed: it's a common belief that protein is something you can only get from consuming animal products. This is just plain wrong. We have an article called "Vegan Sources of Protein", and there you'll find heaps of high protein vegan foods. Now back to our topic:
How Much Protein Do I Need ?
Everyone's body is different and therefore we all need a different daily protein intake to keep ourselves going. But you're here because you want to see numbers – and that's what we'll give you.
Check the table below to see how much protein you need, based on your weight and level of activities:
Oh, and before you ask, this table works for both men and women. We usually say that men need more protein because – in general – men are larger. But a man and a woman who have the same weight and do the same level of activities will need about the same amount of protein a day. ¹ ²
| | | | | |
| --- | --- | --- | --- | --- |
| WEIGHT x ACTIVITY LEVEL | Average Person | Moderately Active | Frequently Exercises | Intense Strength Training |
| 100lbs / 45kg | 36g | 45g | 63g | 81g |
| 110lbs / 50kg | 40g | 50g | 70g | 90g |
| 120lbs / 54kg | 43g | 54g | 76g | 97g |
| 130lbs / 59kg | 47g | 59g | 83g | 106g |
| 140lbs / 64kg | 51g | 64g | 90g | 115g |
| 150lbs/ 68kg | 54g | 68g | 95g | 122g |
| 160lbs / 72kg | 58g | 72g | 101g | 130g |
| 170lbs / 77kg | 62g | 77g | 108g | 139g |
| 180lbs / 82kg | 66g | 82g | 115g | 148g |
| 190lbs / 86kg | 69g | 86g | 120g | 155g |
| 200lbs / 91kg | 73g | 91g | 127g | 164g |
| 210lbs / 95kg | 76g | 95g | 133g | 171g |
| 220lbs / 100kg | 80g | 100g | 140g | 180g |
Now that you know what your optimal daily protein intake is, the first question is answered: "How Much Protein do I Need ?"
So let's look into the second one: how to reach your daily protein intake as a vegan.
Reaching Your Daily Protein Intake
Depending on your weight and current diet, the table above might be daunting. Calm down!
For starters you need to divide that number (your target daily protein intake) by the number of meals you do in a day. So if your weight is 160lbs/72kg and you exercise regularly, you need about 100g of protein a day.
If you consider – let's say – 6 meals, you'll find out you only need 17g of protein per meal!
And I can almost hear you saying: "But I am a vegan! How am I supposed to do that?"
You're not alone – most people think like that. In fact that's one of the reasons they are so afraid of going vegan. However, contrary to popular belief, it's pretty easy to reach your daily protein intake as a vegan.
And if you're interested in taking vegan protein powders to help you reaching your target amount of protein per day, check out our "5 Best Vegan Protein Powders".
But while protein shakes make it EASIER and MORE CONVENIENT, they are not a NECESSITY. There are lots of high protein vegan foods out there which are easy to find, cheap to buy, and delicious to eat 😉
We're talking about almonds, pumpkin seeds, peanuts, beans (there are so many varieties), quinoa, rice, and a lot more. And you should probably know that pretty much every kind of tree nut is also a great source of protein (brazil nuts, cashew, macadamia, walnut, etc) – so if you're not allergic to them – head off to the supermarket right now and buy them by the bunch!
In fact, before doing your groceries shopping you should probably check out our "Vegan Sources of Protein" guide, where you'll find lots of high protein vegan foods!
To Conclude…
Yes, protein is essential to maintaining a healthy body and – if you're exercising – also building muscle. Being a vegan does not mean you get some sort of exemption from that need – you still need your proteins!
But it doesn't have to be consumed nearly half as much as those guys in the bodybuilding magazines tell you when trying to sell protein powders.
So many people believe that it is a difficult task for a vegan to reach an optimal daily protein intake – and now you know that this is false. Nothing but a myth.
There are many high protein vegan foods out there (as you can see in this post), and it is just a matter of maintaining a healthy and varied diet. Rest assured that your body will be getting the amount of protein it needs to thrive!
So, there you have it: the answers to two of the most common vegan questions:
"How much protein do I need?" Check the table above.
"Can I reach an optimal daily protein intake as a vegan" Yes! With high protein vegan foods and/or these vegan protein powders.
Still have questions? Use the comment box below and we'll get back to you soon!
Thanks for reading, and stay healthy 😉
SOURCES:
¹ Food and Nutrition Board, Institute of Medicine. (2002). Dietary Reference Intakes for Energy, Carbohydrate, Fiber, Fat, Fatty Acids, Cholesterol, Protein, and Amino Acids. Washington, DC: National Academy Press. https://www.nap.edu/read/10490/chapter/1

² Harvard Medical School Family Health Guide.(2006). Good Nutrition. Should guidelines differ for men and women? http://www.health.harvard.edu/fhg/updates/update0906b.shtml